That title sure caught your attention, right? It's not as bad as it sounds. I'm not a Black Hat hacker, I just enjoy reading security related books.
Back in 2003 the famous/notorious hacker Kevin D. Mitnick released his first book called The Art of Deception which discussed different elements of security that relate to social engineering. When I read the book back then I was really both chocked and amazed how easily a well-skilled social engineer can gain access to the most sensitive type of information.
In his latest book The Art of Intrusion, Mr. Mitnick moves on from social engineering to discuss digital security. Since I personally have much more experience with digital security than with social engineering, the techniques used in the stories were not that exciting.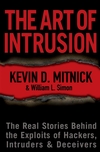 However, the plots of the stories were quite interesting. In a couple of the stories in the book the reader gets to follow security consults who work on penetrating various companies (the company names are not mentioned). Even though the techniques used by these consults were maybe not shocking in any way, the way thought was. The guys in these stories really know how IT-administrators at midsize and large corporation think, and where they're likely to cut corners and be lazy.
- Did you disable all network ports that are not in use?
– Did you change the default password on all your network-equipped devices?
– Is your internal voice-mail system using the default password?
– Did you install the latest patches on all you servers? Even the internal ones?
– Did you disable all services that are not in use?
Even though the book brings little new technical knowledge to a tech-savvy person, it shows you how a skilled hacker can obtain important information about your system with, what you think is, trivial information.
Verdict: I would recommend this book to anyone who works with technology or security in a corporate environment. Also, if you haven't read The Art of Deception, I'd also recommend you to read it.
Author:
Viktor Petersson
Tags:
internet
,
security